Products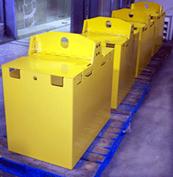 Since 1974 Lawrence Brothers, Inc. has engineered and manufactured steel battery trays for use in underground mining worldwide. All manufacturing is done in house - from initial design to finished product.  LBI is located in the heart of the Appalachian coal region, providing the opportunity to work with most major battery companies and several different battery tray designs.
Lawrence Brothers posesses the unique experience to manufacture varying sizes of trays, from those small enough to fit your car battery, to a tray weighing more than 10,000lbs. Our products are fabricated using precise machine tools and qualified assembly professionals. Quality control is implemented every step of the way to ensure a solid well-built product that can withstand years of harsh work environment.  
 
Finish Choices: Powder Coat & Plastisol, Epoxy.
 
Tray Refurbishment Service Is Available.